Global commodity markets (Part I): a paradigm shift?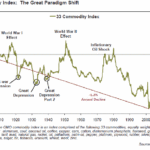 This blog is focused on European power and gas markets. But it is difficult to have a robust view on the evolution of power and gas markets without reference to global commodity markets. Global coal prices determine the extent to which coal and gas fired power plants compete in setting marginal power prices. Global LNG prices and the oil indexation of gas contracts have become key drivers of European gas hub pricing dynamics. This article explores the evolution of commodity prices in the context of the 'macro' drivers common to all commodity markets.
The theory of a structural shift in commodity prices or a commodity 'supercycle' has been gaining prominence over the last decade. There has undoubtedly been explosive growth in demand from developing economies in the face of finite global resources. But the fallacy of many previous theories of structural market change has been exposed as the cyclical nature of asset prices prevails.