Impact of a Biden win & Covid vaccine
November is usually a tough month of the year. It's dark & cold. Summer seems like a distant memory… spring is a long way off. Even Christmas is still in the planning stages, working out how to cater for the in-laws.
A global pandemic doesn't help the November blues. But looking beyond the immediate effects of Covid, there have been two big reasons to put a smile on our face this November. We will soon have a new US president and it looks like a Covid vaccine is getting close.
A Biden presidency swings the US back behind global decarbonisation efforts.  A Covid vaccine underwrites downside economic risks and reduces the corrosive uncertainty that has been a feature of 2020.
In today's article we consider the impact of these two factors on European energy markets.
The US rejoins the fight
The impact of a Biden victory can be considered in two parts:
Return of the US to a leadership role in driving global efforts to decarbonise
Increasing momentum behind reduction of US emissions.
The former may be easier for Biden to achieve than the latter. Biden's administration will have a strong & direct influence on foreign policy. Domestic policy on the other hand will likely depend on working with a Republican controlled Senate.
Biden ran on a policy platform where tackling climate change was a core focus. For example:
A net zero 2050 US emissions target, net zero power sector emissions by 2035
US re-joining the Paris Accord
Considering appointment of a 'climate czar' as central role of administration (e.g. John Kerry or Jay Inslee)
A planned $2tn green stimulus package.
The importance of the return of the US to a leadership role in driving global decarbonisation should not be underestimated. And it comes at a time where the world's biggest carbon emitters have now swung behind net zero targets.
10 countries account for around two thirds of global carbon emissions from fuel combustion as shown in Chart 1. 6 of those 10 will have set out net zero policy targets, once Biden instates a US target.
Chart 1: Top ten carbon emitters pledge net zero targets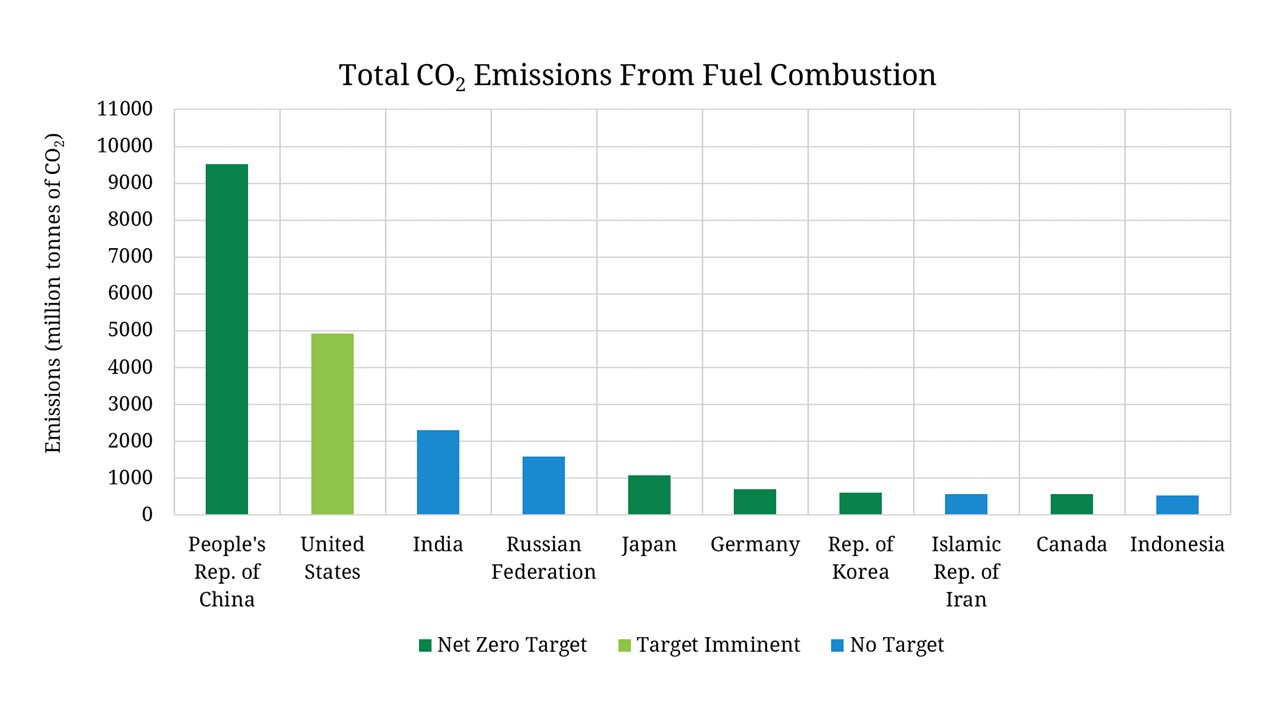 Source: Timera Energy, IEA (2018 emissions data)
The US joining this group is set to accelerate the global energy transition and increase the pace of investment in clean energy infrastructure. That is good news for European countries and companies that are leading the decarbonisation charge. And it should accelerate technology improvements and cost reductions e.g. across renewables, batteries, hydrogen and carbon capture.
A tougher domestic challenge
Biden has painted a vision of an expansive 'green new deal' to help lead the US out of a Covid induced recession.  Implementing this policy will be tough, given it is likely his administration will need to work with a Republican controlled Senate.
Many of the policies that are driving decarbonisation in Europe, e.g. a price on carbon, direct renewable subsidies & tough fuel efficiency standards, are very unlikely to make it through Congress.
Biden will have a more direct influence over government agencies such as FERC and the EPA which he can use to support his policy push. Beyond this, his administration will need to compromise and carve out deals.
Policies that focus on economic recovery and employment are more likely to succeed than those that specifically target climate. An assertive stance on 'green' may need to be broadened to a more pragmatic and subtle push for 'clean'. For example including nuclear, hydro, hydrogen and carbon capture technologies as well as renewables, particularly given job sensitivities in some states.
Stimulus and support for broader infrastructure deployment present big opportunities. This may not be tagged as 'green' but it can facilitate decarbonisation e.g. network investment & building upgrades.  Tax credits (e.g. the solar Investment Tax Credit) and even renewable certificates may also be an easier path than targeting direct 'green stimulus'.
The other key role the Biden administration can play is supporting US business in driving the energy transition and climate solutions.  There is already strong momentum behind US 'large tech' company leadership in responding to climate change. A supportive administration can unlock enormous economic potential from broader US company leadership of global decarbonisation efforts.
Covid vaccine on the way
The success of late stage trials for a Covid vaccine are acting to underwrite economic downside risks and firm up the path to recovery. In a nutshell this reduces uncertainty.
The market reaction to positive vaccine news has been clear. There was a big rally last week in cyclical, economically sensitive and emerging market equities. Oil, gas, power and carbon prices also rallied sharply in response to a firmer energy demand outlook.  This accelerates the dynamics of energy price recovery that we have set out since Q2 2020.
While a vaccine improves the economic outlook over a 2 to 3 year horizon, it will not have much impact in the near term.  This means more substantial fiscal stimulus packages on the way in both Europe and the US to support economic recovery.  Infrastructure is a clear target and at least in Europe the focus will be on green investment.
The combination of US re-engagement, increased economic certainty and further policy support will add to the momentum behind European energy investment into 2021.