WHAT IS LNG BRIDGE?
The construction & optimisation of LNG portfolios drives value creation. An effective portfolio model is the analytical 'engine room' behind portfolio value creation.
LNG Bridge empowers you with analysis that supports effective decision making and creates a competitive edge
LNG Bridge is an LNG portfolio analysis model.
It allows companies to quantify and manage the interdependent value of LNG assets within a portfolio.
LNG Bridge is underpinned by a sophisticated price simulation and portfolio optimisation engine.
It uses a 3 step process to optimise and quantify value against simulated market prices (see diagram).
WHO USES LNG BRIDGE AND WHY?
LNG Bridge has quickly evolved into an industry leading solution, employed across a broad range of LNG portfolios.
Our client base is growing rapidly and includes oil & gas majors, producers, utilities & commodity traders (see examples to the right).
Our work with clients is underpinned by our first hand commercial expertise of LNG portfolios & markets.
LNG Bridge is developed & supported using extensive LNG commercial experience within our team.
LNG BRIDGE MODEL COMPONENTS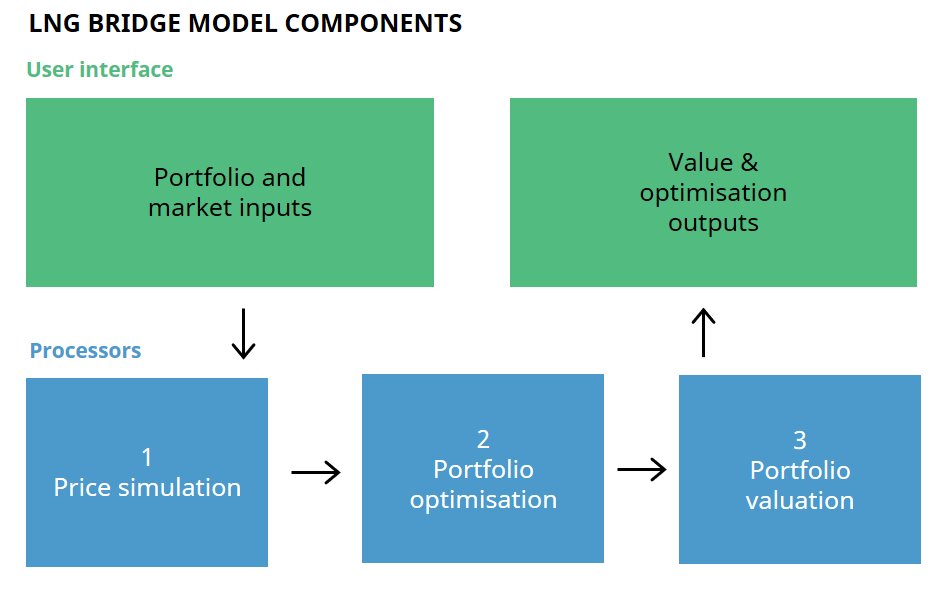 HOW OUR CLIENTS ARE USING LNG BRIDGE
Oil major
Implementation as global portfolio valuation modelling solution to support value growth.
Portfolio player
Commercial and risk team implementation to analyse value and risk of existing LNG portfolio and new deals.
Producer
Implementation as global portfolio solution e.g. to analyse spot vs SPA sales strategy and sizing of vessel capacity.
Utility
Used to support valuation of large LNG portfolio to support binding bid.
Trader
Supported valuation for acquisition of European regas and SPA contracts.
USER INTERFACE: DASHBOARD
The user-friendly dashboard provides a transparent summary of analysis of portfolio components, optimised flows & margin capture.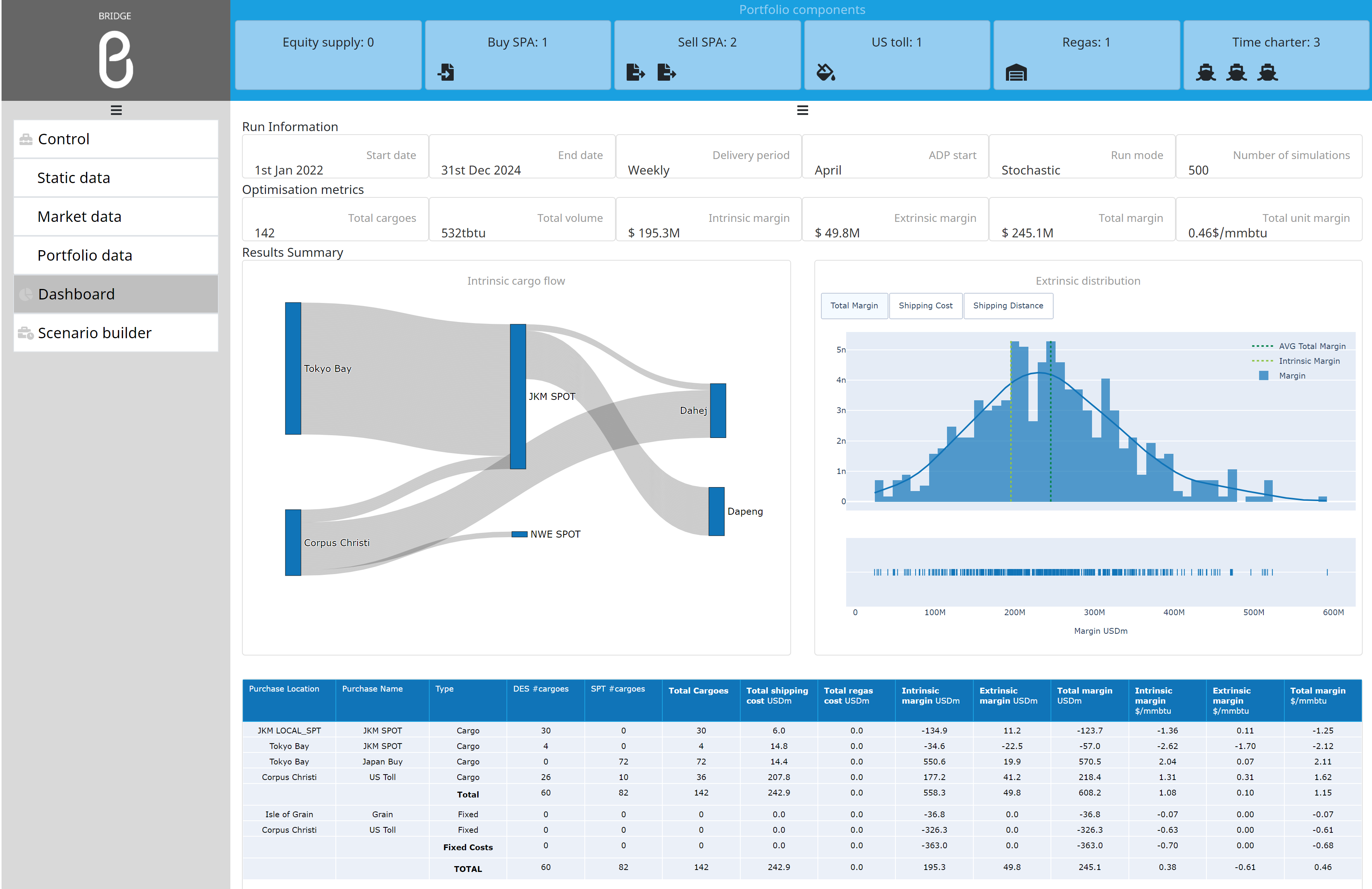 USER INTERFACE: INPUT INTERFACE
A key benefit of LNG Bridge is its ability to capture a broad range of contract structures, supply chain assets & logistical constraints. It is also highly configurable, supporting rigorous deconstruction of complex portfolio exposures & flexibility.